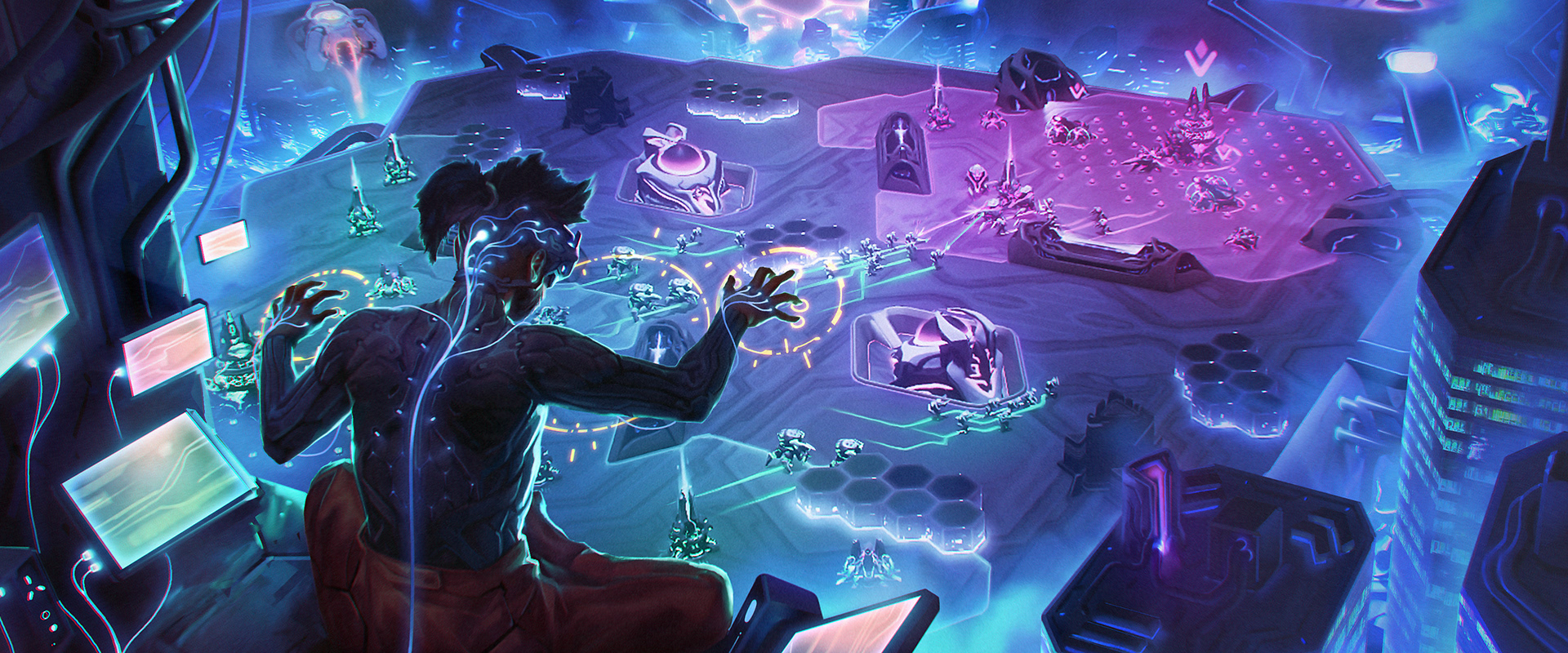 Platforms:

PC/Mac/Linux, Other Platforms TBD
Target Release

: Est. 2020
Modes:

Online Combined Solo/PVP/Co-Op, Offline Skirmish
NeuroSlicers is a cyberpunk RTS that focuses on high level tactical play, 8-12 minute edge of your seat matches, epic level objectives to fight over, boss battles and deep customisation packaged into a narrative driven campaign that synergises / combines solo, co-op and pvp gameplay into a modern take on the genre with the player's journey and choices at the centre. Control clever AI powered units, use powerful hacking abilities that allow you to manipulate the levels and spawn advanced weaponry and buildings that allow you to take over the network one data node at time.
Cyber warfare just stepped up a gear. Battle it out in highly tactical real time PVP warfare with NeuroSlicers - a genre-defying new competitive real time strategy game coming out for PC / Mac / Linux and select consoles.
With advanced AI powered units and environment manipulation at its core, NeuroSlicers offers a set of truly fresh challenges for both the seasoned competitive player as well as those looking for a deep narrative driven strategy gaming experience.
Combine a wide variety of highly customizable abilities including clever AI controlled units, upgradeable buildings and hacking powers that allow players to manipulate the levels, reconfiguring the environment and influencing the behaviours of units.
With no fog of war, a wide variety of visual and audio cues to support your tactical decision making, NeuroSlicers is a truly new form of strategy game that requires players to make new decisions and offers truly fresh challenges.
Unlock the secrets of the NeuroNet and the corporations vying for control in a multiplayer driven narrative and ultimately make a decision who to side with as the war of the Network escalates.
In NeuroSlicers you are a lone hacker looking to become the best Slicer in the network, but the truth hidden in it's depths might mean your fighting for more than just your share of cryptocurrency.
NeuroSlicers started life as an internal game jam game developed by Milcho Milchev, our lead designer and gameplay programmer. Initially the game was in 2D with the simple mechanic of being able to place or remove squares from a grid based battle board where two teams of little Ai controlled bots would fight it out. 
The player's objective was to manipulate the battle board by placing and removing these blocks in order to change the behaviours and path-finding of the bots and get them to be strategically placed so that they could destroy the other team before the player's team died. It all centred around placement, timing and positioning. It was simple, yet elegant and we very quickly realised we were onto something special.
Since the first prototype we have continued to keep the AI controlled units and battle-board manipulation at the core of the game's experience while expanding on it immensely. This has culminated in a real time strategy game that feels truly fresh, exciting yet challenging, but most importantly a lot of fun to play.
Deep narrative experience that combines solo, competitive pvp and co-op gameplay and progression together. Unlock the truths hidden in the data you collect and see the Factions for who they really are and ultimately determine the future of the NeuroNet and the world beyond.
Physically manipulate the battlegrounds, changing their layout which in turn influences unit movement and building line of sight.
Units in NeuroSlicers are completely AI controlled with players only able to influence their behaviours through the use of their powers 
Refocused gameplay from micromanagement to macromanagement, breaking down the barriers that often stop people from playing RTS games.
Wide variety of units, buildings and hacking powers available to players allowing them to customize their loadouts to suit their playstyle.
Fast paced, highly competitive gameplay that's quick to pick up and fun to master.
Deep player progression that's tied to ability and visual unlocks, narrative and ultimately the end game content which focuses on the Faction war between the three Corporations and the player's position among their ranks.